Post by Deleted on Dec 4, 2018 7:01:44 GMT -5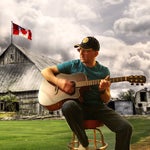 The guitar has a Brazilian rosewood fretboard. It cracked along the middle of the fretboard on the top, perpendicular to the frets, around the 12th fret. The guitar is a 12 fret 000 made by a builder well known in Europe, but not nearly as well known here. Tony McManus plays one of his guitars that is very similar to mine. The crack was about two inches long. It wasn't really serious, but enough for me to take notice and get it fixed right away.
Tony
Interesting. Wow. Was the cause ever determined? Was it simply that it had dried out? Or was it just one of those strange things? Could have been that wood just had a weak spot right at that point or something. Very cool that they were able to fix it. That would definitely freak me out if my fret board cracked.
I have no idea why the builder would use Brazilian rosewood for a fretboard. Usually, the wood used is ebony for that. Brazilian rosewood is revered for its tone as used for sides and back. These days, the upcharge for Brazilian rosewood is many thousands of dollars, and then there is the hassle of taking the guitar across national borders due to the CITES rules.
As for the fretboard having cracked, those knowledgeable about such things have told me that this is not uncommon for Brazilian rosewood. That wood is apparently prone to cracking and is also difficult to work with when building guitar backs and sides.
I am not claiming to be knowledgeable about these things, but have checked with people I know who truly are, by their experience and training, which is something we often never know about a person in a forum. Luckily, in my area, such people are available locally. So, based on what they have said, I am not overly concerned and, as I mentioned, the crack was fixed and there is now no sign that it ever happened.
Though there was a time when I got all wrapped in what was "cool" in terms of woods for guitars and that sort of thing, I would love to do away with all that and simply enjoy a good carbon fiber instrument that has none of these kinds of problems, that sounds at the time of purchase how it will probably sound 100 years from now, and that I can just play without having to mess around keeping the guitar maintained.
Tony